Royal Caribbean is running a "Name That Ship" contest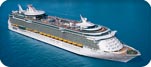 for its two new Project Genesis ships that will be officially christened in 2009 and 2010.

The names must end in the words "of the Seas" and are supposed to "capture the scope of amenities and innovations" on the upcoming ships. Royal Caribbean describes them as the "newest, largest, and most innovative cruise ships in the world." The cruise line suggests not focusing on the sheer size of the ships, but the range of experiences that will be available on them. Both names should share the same theme, such as "Freedom of the Seas" or "Liberty of the Seas" (two current ship names).

The contest, which is being run in conjunction with the newspaper USA Today, began January 18 and will end at 6 pm EST on February 29, 2008.

A number of Finalist prizes will be awarded, topped by two Grand Prizes that involve free cruises on either Project Genesis ship. Six Finalists will be named beginning March 14, 2008, and the Grand Prize winner(s) will be announced by the end of May.

The winner(s) won't necessarily be choosing the actual names of the ships, however; Royal Caribbean reserves the right to choose its own names.

For detailed contest rules, click here. For an entry form, click here.

Freedom of the Seas photo from Royal Caribbean.