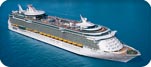 USAToday.com's Name That Ship contest, which we wrote about here last month, is in its final day today.

For all the details and a link to the rules and an entry form, read our previous posting, but the gist of it is that if you come up with the perfect names for two new Royal Caribbean Genesis-class cruise ships, you could win a free cruise for yourself and a guest.

One detail has changed since our previous post: you now have until midnight tonight (February 29), EST, to name those ships.

Good luck!

Photo from Royal Caribbean.