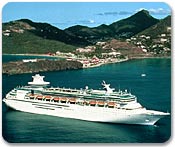 Both Royal Caribbean and Carnival offer three-night cruises from Los Angeles to lively Ensenada, Mexico, on the Baja Peninsula. Both cruises leave L.A. on Friday afternoons throughout the year and return Monday mornings, so you can complete either trip over a long weekend.

Prices start at $189 for the Royal Caribbean cruise, $199 for Carnival's. Royal Caribbean has its 2,700-passenger Monarch of the Seas ship in service on this route, while Carnival uses its 2,050-passenger Paradise. Besides a full day at sea, each cruise features a day in port in Ensenada. Various shore excursions are available there at additional cost.

All regular meals and many onboard activities are included in the base price, though, such as a rock-climbing wall on the Royal Caribbean ship and a jungle-themed disco on the Carnival vessel. Note: Carnival also runs four-night cruises from Tampa, Florida, to Cozumel, Mexico (in the Yucatan), with prices starting at $299.