Orient Lines,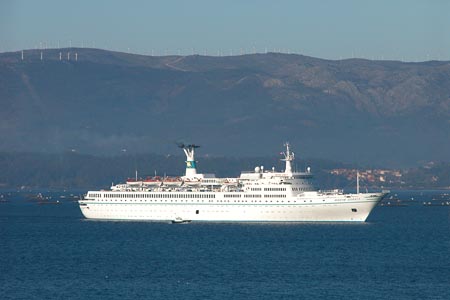 whose previous flagship Marco Polo was sold off earlier this year, has announced that its new flagship -- Marco Polo II -- will make her maiden voyage for the line in April 2009. The ship, which previously sailed as the Maxim Gorkiy and earlier as the Hamburg, will carry 650 passengers in 325 staterooms.

The ship will embark from Barcelona April 15, 2009, and sail a series of Mediterranean and Northern European cruises throughout spring, summer and fall of next year, before setting off on a transatlantic crossing to Rio de Janeiro and points south in late October, 2009.

The ship originally dates from 1969, and was rebuilt and refurbished in 1988 and 1995, serving mostly German and Russian passengers over the years. It will be undergoing enhancements this year before next year's cruising season. The new flagship is larger than the Marco Polo but will carry 200 fewer passengers.

The Marco Polo II will have four restaurants and cafes, seven bars and lounges, a theater, a casino, a spa with indoor pool and saunas, and other public rooms.

For more information and bookings, go to the Orient Lines website or call 800/333-7300. Stay tuned to the Smarter Cruising Blog for any upcoming deals.